Kangaroo Pouch® Zippit® Bags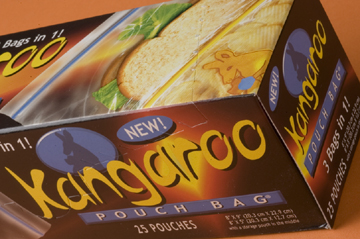 The ULTIMATE sandwich bag! Kangaroo Pouch® Bags were developed by BagCo to carry both food and a gift for a restaurant. As they were developed, it was discovered that they became mom's best friend. Put a sandwich in the back compartment, a snack in the front pocket, and the condiments in the middle! A soft lunch box, to toss in a backpack. Our standard Kangaroo Pounch® Bag has a 8"x9" back pouch, 8"x5" front pouch, and a storage compartment in the middle. You get THREE bags in ONE!

These special bags hold the potential of serving a multitude of applications just waiting for your ideas. They have been used in households, schools and camps for food programs, for training packets, for game pieces and instructions, and fund raising.

This product is only available as a custom order, also custom sizes and printing. Minimum orders for these will be 100 thousand bags or more. And can be manufactured as custom bags in any color with your logo and instructions. Custom sizes and PMS matched colors available.
Also available for retail sales under the new name Pack'n Zip Lunch Bunch Gang®.