TearZone® Specimen Transport Bags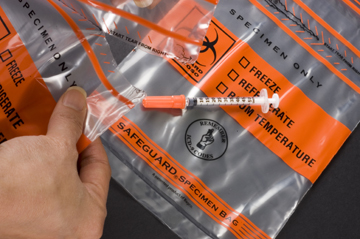 In the mid 1990s, BagCo™, at the request of one of our customers, developed the revolutionary TearZone® Specimen Transport Bag.
The contents of these pouched biohazard Zippit® bags are accessible through the zipper, or by tearing between the two lines. The TearZone® — no perforations to compromise the safety of the bag or the health of the technician! The outside pouch keeps the patient information dry.
We offer this bag in three sizes and an additional Red STAT Bag in the 6"x9" size.
Medical Zippit® Bags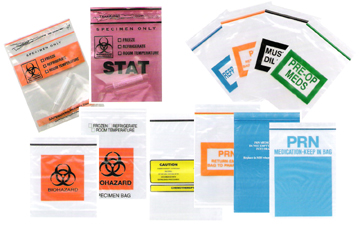 New ColorCode™ TearZone® Bags
Just developed and now in stock, our ColorCode™ TearZone® Specimen Transport Bags!
Our TearZone® patented bag gives easy, safe access to specimens for lab technicians. Now we have taken this development one step further by offering it in 4 new colors to help laboratories identify a specific urgency or departments.
In general, the color Blue would designate FREEZE or REFRIGERATE; Green--PRE-OP; Yellow--Oncology, Urology; and Red--STAT. The choice is up to you or your customers. These quality bags are particularly useful for medical facilities that use pneumatic tubes to convey their specimens. A Quick ID! But, it is good for any specimen transportation
Be sure to ask for samples of our ColorCode™ TearZone®. The Colors visually and quickly identify the department or the urgency. Now in stock!

Let us custom manufacture the medical bag of your choice. These can be manufactured as custom bags in any color with your logo and instructions, with or without our TearZone® feature. Custom and PMS matched colors.