Reclosable Zippit® Bags



Zippit® bags are reclosable and reusable. Use them to package, protect, and display products. They are durable and cost effective. Multi-purpose zippered bags are available in-stock as clear, with a white write-on block, or with a hang hole. These all come packed in our special DispenserBag™.

Zippit® bags with a white write-on block are available in a range of sizes and mil strength. Use the white space to write the item name, price, expiration date, weight, instructions for use, or any information you'd like to note.

Zippit® bags with hang holes for displaying your product line are also available in a wide range of sizes, both in 2 and 4 mil strengths. Great for jewelry, crafts, postcard and stationary sets, gift and hobby items.

All of our bags can be manufactured as custom bags in up to six PMS colors with your logo and instruction. This will keep your company name and image visible and reinforce your branding and company recognition.
Reclosable Zippit® DispenserBag™ Bags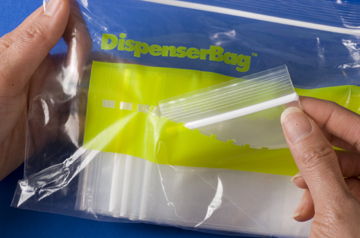 All Zippit® products come packed in our special DispenserBag™. DispenserBag™ bags function similarly to a "tissue soft pack" — keeping a unit of bags/or product tidy and in one place. Pull one out at a time, or open the reclosable feature, and remove a bundle. These bags can also be custom ordered by contacting us.